[ R2K Reaction 2 ] [ R2K Reaction 3 ]
- Regine's 'R2K Concert' at the Dome -
F a n s R e a c t i o n s . . .

Two more pages of reactions added !!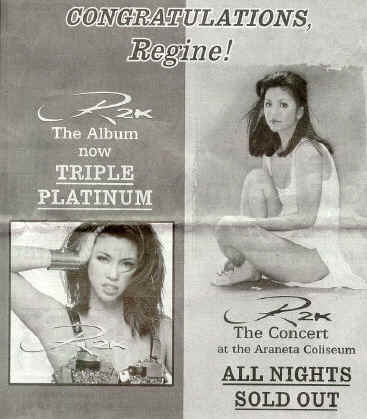 Saturday, April 8, 2000 3:46 PM
Guest Name:
jing

Comments:
Just been to regine's R2K concert, it was a fantastic and awesome show, and the attire of regine exquisitely done... liked the part wherein Regine sang 'on the wings of love' and 'Butterfly' she was sort of like flying, ganda grabe. and of course, sexy mo REGINE, grabe!!! been wanting to watch your past concerts but wasn't able to get a ticket, this time natuloy din. CONGRATULATIONS!!! it was indeed a delightful, gratifying and successful concert, daming tao. dami pala kaming mga fanatics! Thanks REGINE for that nice concert!!!

Name: Almer
Comment: I saw the concert last saturday and i have nothing to say
but all praises, though i hardly find a word to describe it.
M&M: ' Let me help you then Alvin...'
How about 'fantastic,' 'incredible' & 'unbelievable.'

_________________

(Another) Concert Review by 2NET
Regine Velasquez has been in the business for 14 years. She has
done around a hundred shows already. Then people see her sing/perform live
every Sunday on t.v.. Are there any new or different stuff that she can
give to the audience? Well, there are or were as seen in the "R2K The
Concert."

Arriving at Araneta, it was nice to see that they let the people in
early. In the last big concert ("Retro"), it was quite a hassle to be in a
long line since they opened the venue a little late. The P1,500-area
wasn't that full but the other areas were packed. Even the area at the
back of the stage was full and I thought that no one would get those seats.
It was hard getting to one's seat since there were people standing on the
aisle and sitting on the stairs. As usual, the show didn't start on time
and people got anxious for it to start. We just could see the lights being
tested but we couldn't figure out the stage since it was covered with
cloth. As soon as they turned off the lights, the crowd cheered and then
got quiet.

The show started with a video of Regine's pictures, it was longer
than the video they used in the opening of "Regine 2000" at the Music
Museum. Then Regine suddenly appeared alone wearing a red cape. She sang
a few lines of "Larger Than Life" (by the Backstreet Boys) and then
disappeared. She appeared again only when the dancers were in their
places. She wore this black catsuit and knee-high boots and she had on a
long, curly wig. Surprisingly, she danced throughout the song. Even in
the next number (a Jennifer Lopez medley), she continued to dance. She
changed her outfit briefly before the medley, she came out in a gold top
with a purple miniskirt. Since she danced in those 2 numbers, she sat on
the stage to rest for a while but first put on a long skirt. She talked
with the audience sitting down and said that since she's in Araneta, she
thinks that she could never sing that way again. As expected, she was to
sing "I'll Never Love This Way Again." But before that, she sang "One
Love." People were amazed at how she could hit those high notes in that
sitting position that they clapped every time she belted. When she stood up,
she started talking about titles given to stars. This led to the title
which she wants to have and that's "Dancing Queen." The crowd sang
"hu...hu hu..." even before Regine and the back-up singers started singing.
It was immediately followed by "Dance With Me." Mommy V. came out to sing
with Regine. Regine would always let Mommy V. sing the line "and love is
all around us..." which the crowd loved. Afterwards, Regine said how
blessed she feels for having a wonderful family and she thanked the Lord
for giving them to her. She proceeded to sing "The Prayer" with Janno
Gibbs and then "I Believe" (?) with Ogie Alcasid. Then she left them to do
their number. But the 2 guys went on a long, funny chat. The crowd found
out that Janno wasn't in the show the other night for Ogie made a comment
on that. They talked about how costly it was to stage the concert. They
said that the stage floor alone was expensive, it was plexiglass. As the 2
always did in "S.O.P.," they made up and acted out scenes involving the 2
divas as enemies off-camera (Jaya saying "lalamunin kita" and Regine saying
"Ano ba 'yang boses ni Jaya... ang baba!"). Finally, they did their number
("Sex Bomb" by Tom Jones) that made a lot of people laugh since Janno
teased the audience with his sort of "giling" dance steps.

Regine came back wearing a yellow gown with butterflies printed on
it and a crown of yellow flowers. She actually looked like a fairy. She
started singing "On the Wings of Love." Everybody was caught by surprise
when she flew up high at the middle of the song. Again, she belted away
even on a harness. As she finished the song, she spoke of falling in love
that led to her singing "Fallin'." The audience sang with her and at the
end, they screamed when Regine paused and waved a little to Aga Muhlach who
was near the stage. Somebody shouted Aga's name near the end of the song
that made Regine look at Aga. Reporters speculated that Robin Padilla
would be there for their new movie but it was Aga who was there. With her
outfit, it was expected that she'd sing "Butterfly" (by Mariah Carey). She
sang it the same way as she sang "On the Wings of Love," up on a harness.
When she got down, she sang the first part of "McArthur Park" (original
version) and then disappeared. Her gay impersonators came out one by one.
They all started with McArthur Park" and then sang the difficult songs that
Regine sings ("(And) I'm Telling You," "You'll Never Walk Alone," "What
Kind of Fool Am I?" and "Somewhere"). They were even wearing gowns similar
to Regine's (the gowns she wore in her past concerts). For me, this prod.
number would have been really great if they shortened it a bit. Then came
the low point in the show. Regine came out from behind and started singing
"McArthur Park" (her version). She had this red cowboy hat and a jacket.
They did something to her mic that she sounded like she was using a
megaphone in the entire song. Of course, KC Montero did the rap portion.
"For the Love of You" quickly followed. Gabby Eigenmann went out and did
the song with them. These 2 numbers had less impact compared with the
other numbers in the show.

At this point of the show, it was time for Regine to introduce her
special guest, Jaya. Jaya was stunning in a black gown made by Rajo
Laurel. People were a bit surprise since she showed some skin. Later on,
Jaya told the audience that it was Regine who had that dress made for her.
Jaya soon sang a song for her good friend, Regine. It was a jazzed up
"You've Got a Friend." Her number was well-received. Regine joined her
onstage looking so sexy in a beautiful black dress that showed her back,
arms and some parts of her stomach, hip and legs. It was clear that they
belong to the "mutual admiration club" during their spiel. Jaya said that
Regine's "the real concert queen" to which many agreed. Obviously, they
would sing together. They chose to sing "Habang May Buhay." Their voices
blended so well. People gave them a thunderous applause. Jaya walked like
a model on a catwalk when she left the stage. Soon after, Regine talked
about movies. People kept shrieking that Regine said "he..., he...." The
crowd somehow knew that something sweet would happen. They saw Aga stand
up and go somewhere (backstage) while Regine said her spiel. Regine went
on talking about her new movie with Robin, she said that the theme song was
composed by Ogie and it's title is "Kailangan Ko'y Ikaw." She made us hear
it and then proceeded to sing a medley of theme songs of her movies ("You
Are My Song," "I Can," "Tunay na Ligaya" and of course, "Ikaw"). When she
sang "Ikaw," Aga came out and held and kissed her onstage. They were so
close that everybody went gaga over it. Regine got off-track at one point
in the song and she made Aga sing some lines. Before doing the next
number, she saw this sign held by 2 girls at the back of the stage that
made her laugh. The sign was "Sexy mo! Grabe!" Regine quipped, "...sana
hindi na 'ko kumain ever." The mood turned serious when she sang "Sana
Maulit Muli" (acoustic version). Cacai and Charles (the choreographer)
danced while Regine sang. Cacai dazzled us with some difficult moves.
When the number ended, Regine thanked her sponsors, producers and the
audience. This signaled the end of the show. Her last 2 songs were
"That's the Way It Is" (by Celine Dion) and "I Don't Wanna Miss a Thing."
As expected, people asked for more. Regine came back and did "Written in
the Sand" wearing a long red robe. Janno and Ogie suddenly came out after
the song. They surprised Regine by giving her a triple platinum award for
the album "R2K." After receiving the award, she did her last encore number
which was an '80s medley. She made some dancers sing and introduced the
members of the band in this medley. The medley started and ended with the
song "Fame" (by Irene Cara). At the end of the show, all the guests came
onstage and danced with them. Cacai was carrying baby Hannah when she came
out.

Even with the people's expectation heightened by the hype created
for the concert, I think that the concert delivered. The lights, stage,
effects and costumes were good. The band and the dancers were great.
Vocally and physically, Regine was in top condition up to the end. It was
a fun show. The crowd tremendously enjoyed. As I went down the steps of
Araneta with the other people, many were singing the different tunes of
Regine. And I think that it will take them some time to stop with what
they have seen/heard in the show.

2net : )



Concept and Stage Direction: Regine Velaquez
Musical Direction and 1st Keyboard: Mark Lopez
2nd Keyboard: Marvin Querido
3rd Keyboard: Rica Arambulo
Drums: Niņo Regalado
Bass Guitar: Sonny Azurin
Percussion: Bo Razon
1st Guitar: Cesar Aguas
2nd Guitar: Noel Mendez
Trombone: Ronnie
Trumpet: another Ronnie
2nd Trumpet: Boogie
Saxophone: Dix
Back-up vocals: Manolo, Zebedee, Sushi, Cecile, Rene, Kitchi, Sylvia and Babsie
Dancers: H o t l e g s
Impersonators: Anton and the other 3 (sorry, I didn't get their names)
-------------------------------
Midi song playing : " I'm A Believer "